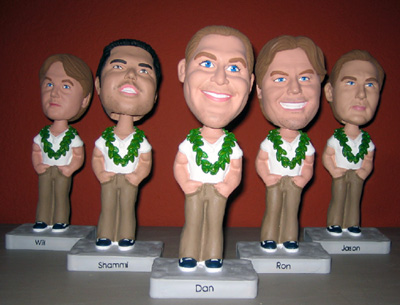 It's still February and summer seems like it's years away. The very idea of sunshine seems like a joke at this point here in the Midwest, but before you know it, summer will be here again. And with summer comes an onslaught of weddings filling up your social calendar. Whether it's your wedding or just one you're attending, we're calling on you to be prepared this year with an awesome gift that everyone will remember.
As a bobblehead company, it probably comes as no surprise that we think custom bobbleheads at a wedding are a great idea. But we wouldn't lead you astray. Over the years, we've heard customers tell us how cool they were and how many people commented on the bobbleheads. From groomsmen gifts to unique gifts for the wedding party, we've got 6 awesome ways to incorporate our fun bobbleheads into your wedding.
1) Groomsmen Gifts
Your groomsmen are an important part of your big day. Don't be boring. They don't need a flask, beer stein, or personalized money clip. Give them something they'll keep and forever be reminded of your big day. Custom groomsmen are our most popular wedding occasion gifts. Get all the guys in your wedding party custom bobbleheads that look just like them, dressed in those extremely fashionable tuxes or suits you're making them wear. It's a cool gift they'll all have, and probably be happy to show off on your big day.
View our Groomsmen Bobblehead specials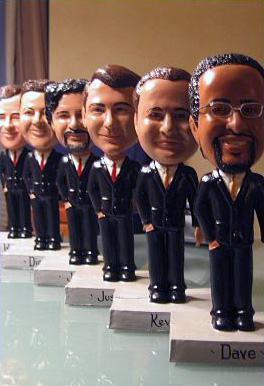 2) Bridesmaid Gifts
Why let the guys have all the fun? While bridesmaids dresses are the punch line of many jokes these days, you can make sure they remember what they wore by putting it on a custom bobblehead that they can't help but keep forever (even if they never wear the dress again). Customize each one to look like your bridesmaids, and even adorn them with fun accessories or gags to make them extra special.
3) Custom Wedding Cake Topper
There's nothing wrong with going with the classic man and wife wedding cake topper. But it's 2016! We can have a little more fun with these things. If you don't want to get too crazy, you can go with facsimiles of the bride and groom looking dapper in their wedding clothes on top of the cake. Custom designed to look just like her dress and his suit, it will be a keepsake they'll keep much longer than that piece of cake in their freezer.
If you're feeling a bit crazier, you can customize the wedding cake topper with some personal accessories. Those sunglasses he always wears? Her favorite handbag? Their dog? Whatever it might be, our designers will make it personal and memorable.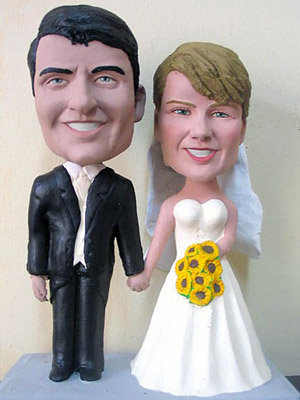 4) Best Man Gift
Your best man is doing a lot for you. He's organizing your (totally tame and appropriate of course) bachelor party, standing by your side as you get married, and helping keep your head on straight through the entire process. Do something a little special to say "thank you." Get him a bobblehead that looks just like him, or even one of you and him, with special reminders about your friendship or being together on your special day. It's both personal and hilarious and manly…. What more could you want with a best man gift?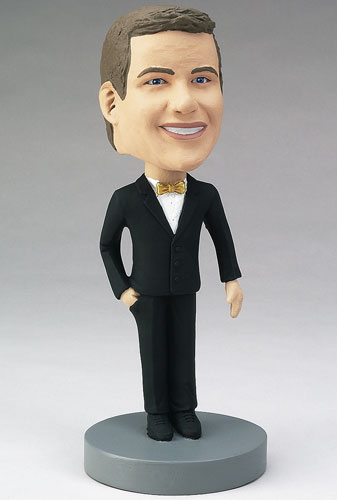 5) Gift for the Bride & Groom
Registries are boring. Do the bride and groom really need a punch bowl? No, because no one really needs a punch bowl. Years from now they'll forget who gave them most of that stuff, but a fun bobblehead of the couple would be a conversation starter for years.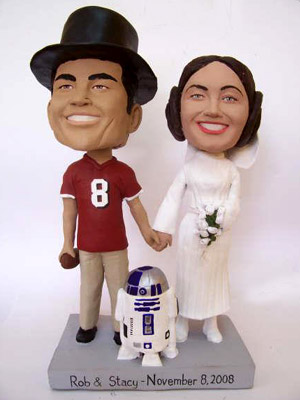 6) Parents of the Bride & Groom
Your parents have probably been waiting for this day since the day you were born and have been looking forward to it as excitedly as you have. It's impossible to thank them for the impact they've had on your life, but a custom bobblehead is a fun and personal way for them to remember your special day (aside from the thousands of photos, of course). Personalize it with the date of the wedding – it will be something they keep forever to remember your special day.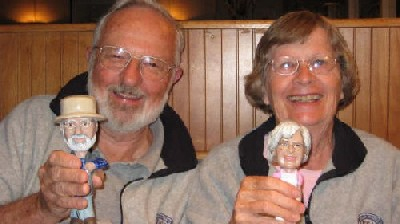 Weddings are fun, and awesome gifts make them even more fun. Check out the wide variety of custom wedding bobbleheads we've developed in the past to get a taste of what's possible. Our artists work hard to deliver high-quality, custom bobbleheads personalized for your friends and loved ones. Get started early so there is plenty of time to put together the perfect bobblehead.