When you think of weddings a lot of different things come to mind. There's the dress, the bride, the groom, and who could possibly forget, the cake. Wedding cake designs have really come a long way in recent years. Everyone wants their special day to be memorable, so people will really go out of their way to get the most beautiful or unique cake. There are so many different ways to make this happen that it can be hard to choose. If you happen to be wedding planning at the moment, we hope this list of wedding cake ideas will help you get some inspiration for your wedding.
Custom Bobblehead Wedding Cake Topper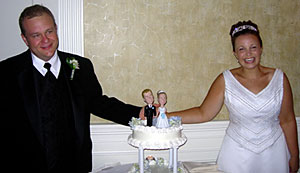 I think it would be very hard for your friends and family to forget if you had a custom made wedding cake topper of bobblehead versions of yourselves. Whoopass Enterprises offers bride and grooms this very option. The topper is fully customizable. You can even add accessories and change the colors to suit your needs.  This is truly a unique piece that no one could exactly replicate because it looks like you.