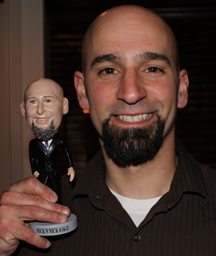 Mother's Day is fast approaching now that we are in mid April. There always seems to be more media publicity for the moms out there and it is understandable, since there seems to be a lot more single moms out there than dads. But dads need love too and that's why we have this list. Dads may be a bit harder to buy for since they sometimes enjoy things in specific niches and some fathers have different quirks and unique senses of humor. So, for all of those weird dads out there, here is a list of weird and wacky potential Father's Day gifts!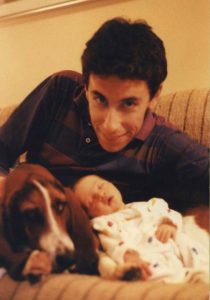 Custom Bobblehead
A custom bobblehead would be a great gift for anyone that's ever wanted a mini me of themselves. The great thing about this gift is that you can make it to look exactly like the person in mind, or you can make it as funny as possible with base bodies such as "baby," "acrobat," and "Buzz Lightyear."  There's a lot more base bodies to choose from that can satisfy any personality quirk! Or you can build your own from top to bottom.   Either way, your dad will be grinning from ear to ear when he sees this small caricature of himself.
Custom Golf Club Covers

Does your dad like golf? Golf seems like a stereotypical "dad" thing to be into. But, maybe your dad likes golf, but is a little quirkier than that. For those fathers, we have the custom golf club cover.  Make your dad laugh every time he goes out on the green by gifting him a golf club cover that looks just like him! He'll be the envy of all his fellow golfers!
Potty Putter Game
This one kind of goes hand in hand with the last one.  Maybe your dad doesn't have time to make it to the golf course as often as he would like. Well, if you get him the Potty Putter Game, he'll always have time to practice while he's in the bathroom! The game comes with putting green, a cup with a flag, two golf balls, and a hilarious "Do Not Disturb Sign." The only downside to this gift is that your dad might take forever to come out of the bathroom!
Dad Jokes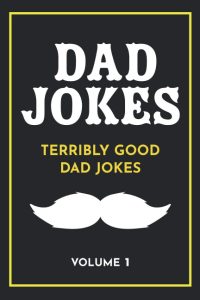 Come on! You knew a book of dad jokes just had to be on this list! Terribly Good Dad Jokes Volume 1 (which means you can buy him the whole series for his collection) is jammed pack with lame jokes that your papa can pull out for every day use. Such examples include: "What does a spy wear on his feet?" Sneakers. Or, "How did the camping trip go?" It was in tents.
Cards Against Humanity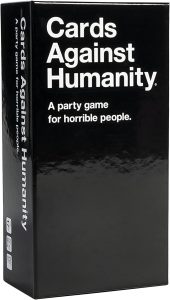 Cards Against Humanity is a self-described "party game for horrible people." So proceed with caution, this game isn't for all dads. However, if your dad is into gross out and crude humor, by all means, go for it! You won't be disappointed on game nights, but your mom might be!
How to Traumatize Your Kid Book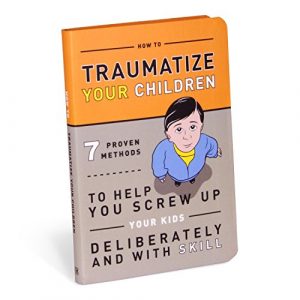 This book would be quite useful for dads with young children. How to Traumatize Your Children boasts "7 proven methods to help you screw up your kids deliberately and with skill." If you're an adult and have younger siblings this could also be a great way to score some sweet, sweet revenge for the time when your sibling stole your food or embarrassed you in front of friends.
Desktop Boxing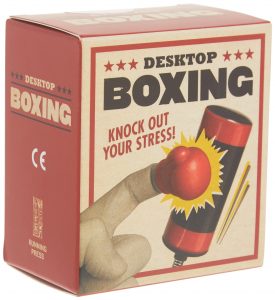 Has your dad been stressed lately? Desktop Boxing could be a great way for him to relieve the tensions from a hard day on the job, without the negative consequences of other stress relieving tactics, like drinking. The Desktop Boxing set comes with a mini desktop punching bag with suction cup base, tiny boxing gloves for the pointer fingers, and a mini book filled with finger boxing moves and boxing trivia. Whether you dad is a boxing fan or just needs to blow off a little steam, this is a very unique and useful gift.
Sorry the Dog Farted Candle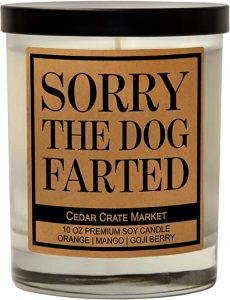 We all know the age old story. Your dad lets one rip and  blames it on the family dog. Every time your dad goes to make this joke again, he can look over at this candle and laugh. The candle comes in a 10 ounce reusable jar and it is also pet friendly. It would have to be since it's accusing the poor thing. The candle also boasts 50-60 hours of burning time and the scent is a mixture of orange, mango, and goji berry.
Screaming Goat
Need to get some revenge on your dad for a prank he pulled? I present to you the Screaming Goat. The goat is a total of 3 inches long and stands on his own little base. Give him a little squeeze and he screams at you. He also comes with a little booklet that serves as a 32-page illustrated pocket guide of fun facts and trivia about goats. Just imagine hiding this thing and then giving it a little squeeze next to your dad. Hilarious!
Shock Pen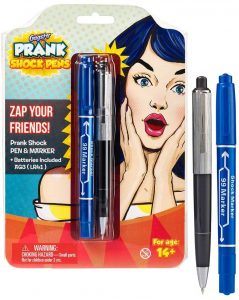 Your mom may never forgive you for this one, but your dad will love it! The best part? It comes in a pack of 2! The gift that keeps on giving! Let me assure you though, the pen does actually write.  Pressing the button to reveal the pen emits the electric shock and the pen tip comes out by twisting the top instead of pressing the shock button. You write, but your victims get shocked. At least your dad won't have a problem with people borrowing his pens and never returning them again.
Beer Belly Fanny Pack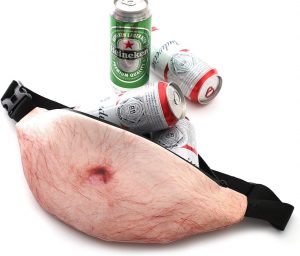 Give new meaning to the phrase "beer gut" when this Beer Belly Fanny Pack.  The bag comes in a hilarious belly design that even has hair and a belly button! The strap is adjustable as well. Honestly, even dad on your block might want one.
Your Dad Deserves It
Unfortunately, it is common for dads to be out of the picture. But if your dad is in your life and is a positive influence, get him a gift! He deserves it! Of course, not every dad will be into one of these types of gifts. However, if your dad is "weird and quirky," he would probably appreciate the thought into his personality and likes that lead you to buying one of these gifts. It will not only but a smile on his face, but you can smile and laugh every time he gets a chuckle out of it.