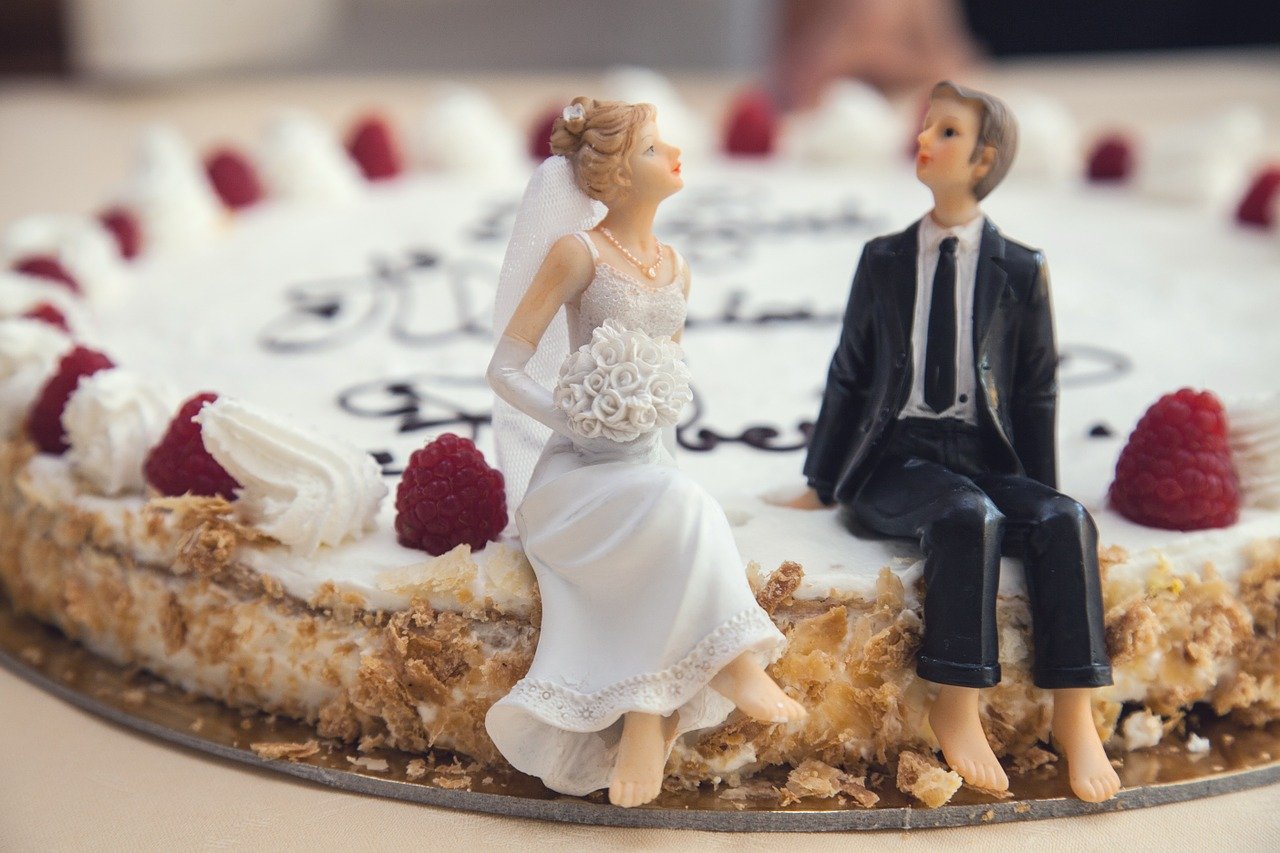 When you think of weddings a lot of different things come to mind. There's the dress, the bride, the groom, and who could possibly forget, the cake. Wedding cake designs have really come a long way in recent years. Everyone wants their special day to be memorable, so people will really go out of their way to get the most beautiful or unique cake. There are so many different ways to make this happen that it can be hard to choose. If you happen to be wedding planning at the moment, we hope this list of wedding cake ideas will help you get some inspiration for your wedding.
Custom Bobblehead Wedding Cake Topper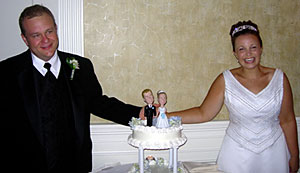 I think it would be very hard for your friends and family to forget if you had a custom made wedding cake topper of bobblehead versions of yourselves. Whoopass Enterprises offers bride and grooms this very option. The topper is fully customizable. You can even add accessories and change the colors to suit your needs.  This is truly a unique piece that no one could exactly replicate because it looks like you.
The Naked Wedding Cake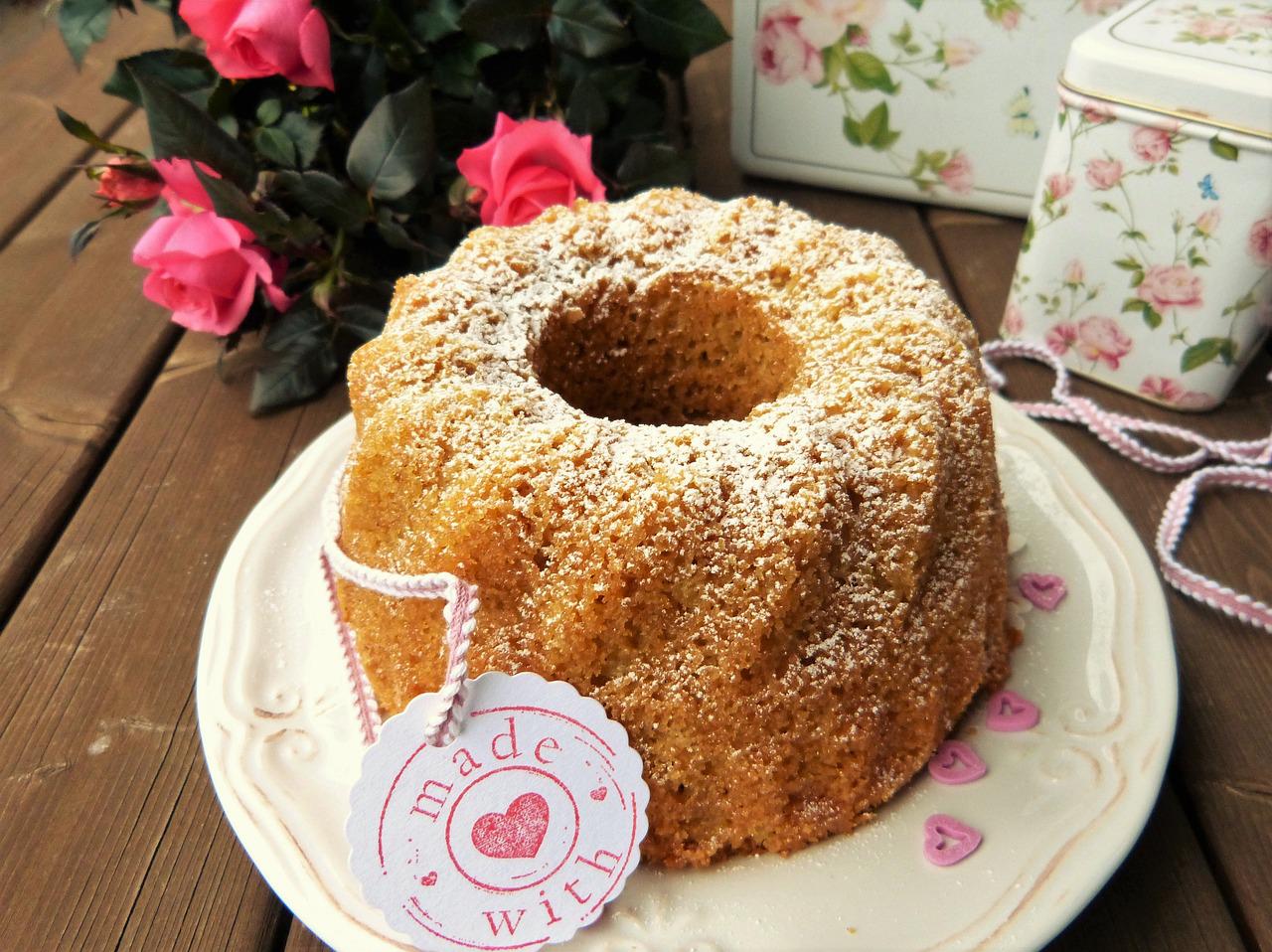 This is a concept that has grown in popularity in recent years and is very simple. It's a wedding cake with either no icing or without the outer layer. If you eliminate the outer layer, parts of cake will show "naked" or bare. This creates a lovely aesthetic and actually has some benefits as well. Eliminating the outer layer or all of the icing all together would cut down on the sugar and may also cut down on the price as well.
Watercolor Wedding Cake
Artists, rejoice! This is a truly unique and beautiful cake that would be right up your alley. The cake is actually painted with an edible paint. Some design ideas that can be used with this medium are flowers, abstract patterns, or ombre. If none of these ideas resonate with you, think of a design yourself and really let your creativity run wild!
Golden Cake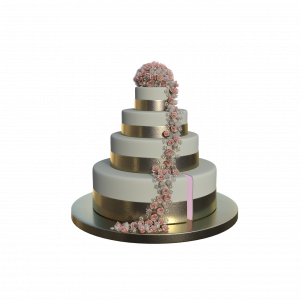 A hint of gold in your cake could really give it an elegant flair. Edible gold flakes are usually what are utilized to produce this look. You can put as much or as little as you like. You can also add other pieces to it to really give it a unique look. Try adding flowers or other decorations.
Berry Cake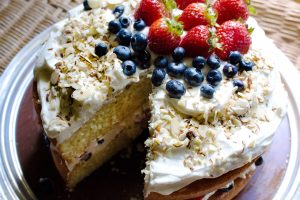 If you are looking for a tasty way to incorporate your theme colors or any colors into your wedding cake, try adding berries as a decorative topper. The vibrant colors of strawberries, blueberries, or blackberries can really add a hint of elegance, while also being delicious! The bonus is that unlike edible gold which actually doesn't have a taste, these berries will add to the flavor.
Chocolate Wedding Cake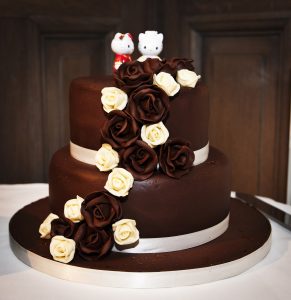 Wedding cakes are traditionally white and usually have the iconic almond flavoring. That's all fine and good, but what about the chocolate lovers out there? Not to mention, it could also give you a break of looking at all the white at a wedding, while still looking amazing!
Pink Lady Cake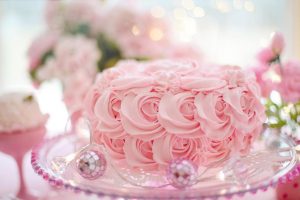 This would be a great choice for fans of pink or the Legally Blonde series. Wouldn't a pink cake be a dream for Elle Woods? Pink roses, like in the cake pictured above or decorative flowers, beads, or sequins could really make a pink cake shine. Move over, white weddings.
Tier of Macaroons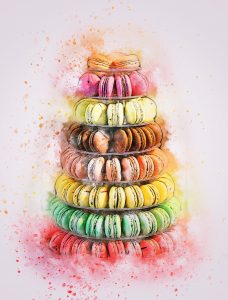 Just picture it, a tier of assorted, colorful macaroons as your wedding cake. Are you drooling yet? Not only are these sandwich cookies delicious, but their many colors can really make a wedding pop. Are you having a pop of color in your wedding dress? Make sure to include a macaroon to match!
Pastel Wedding Cake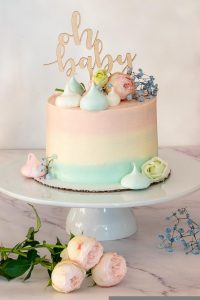 There's something about pastels that makes everything so pretty. A pastel cake could really improve upon a wedding, especially if you happen to have pastels as your theme colors. It could also be a great option if your wedding is around Easter.
Black Wedding Cake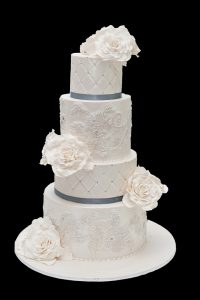 Here's one for all you goths in love out there. Whether you want to do your cake in a complete neo noir style or just add a pop of black, a darker looking cake could add a truly unique and elegant element to your wedding cake. This could also be a great option for Halloween weddings.
Anime Inspired Wedding Cake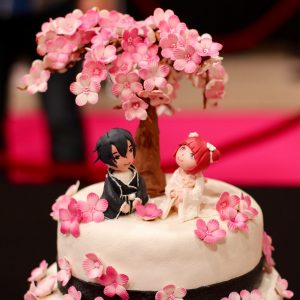 This is a truly unique wedding cake idea, so much so that it would only benefit a certain niche of people; the anime lovers. You can take inspiration from the image pictured above and incorporate cherry blossoms, sake, or maybe see about getting some anime style figures of yourselves. At Whoopass Enterprises, we could design a custom wedding cake topper in this style with one of our custom head-to-toe bobbleheads if you'd like!
Weddings are a truly magical time and should be a day to remember. This is why it is important to take into account your likes, dislikes, and interests when thinking about your wedding cake. Whether you go with a more traditional route or a unique one is up to you, but remember to take your partner's wants into consideration as well. You want the day to be a memorial one for everyone involved. However, also remember to let your imagination and creativity run wild.