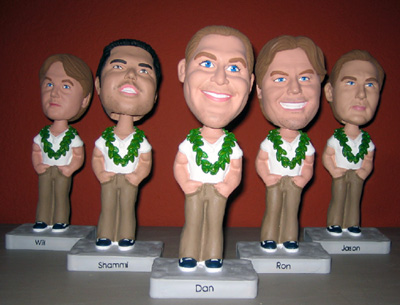 Trying to give the perfect gift can be a stressful task. If you want your gift to be personal, memorable, and sincere, be sure not to overlook a customized bobble head doll.
Bobble head dolls can be so unique and interesting when they are custom made. Customizing a bobble head gives you, as the gift giver, so much freedom and influence on your gift.
Whether custom-made bobble heads are given to friends or family, they are a great gift for all ages, even kids! They can be used to commemorate special events, like weddings and birthdays – the options are truly endless. For example, you can add outfits and even personalize the bobble head facial expression. Be sure to look into all of those extra options to make your bobble head as custom as possible.
The most important part of giving this gift is to ensure that you are purchasing a quality bobble head. To guarantee this, make sure the company you are considering is actually a bobble head doll specialist. This is very important for multiple reasons. First off, you want your custom made bobble head to be very detailed. The facial details need to be so spot on that it is clear who the bobble head is meant to be. Quality bobble head dolls are very life-like when done well.  The best bobble heads are the ones that are made accurately and still retain the gigantic head these dolls are known for.
Bobble head dolls as a gift provide so much enjoyment, and people usually get a kick out of seeing their face on this type of doll. Plus, it is almost a guarantee that your gift will not be one they have received before.