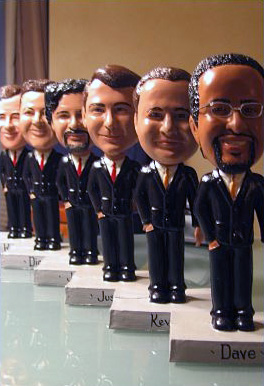 Wow, are weddings tough things to plan! If you're going through that, then our hats off to you. We thought running Whoop Ass Enterprises was hard, but that doesn't hold a candle to planning a wedding.
I mean, there is just so much that you've got to decide. There's the cake, the floral decorations, the location, the wedding list, who sits where (for heaven's sake, don't put Aunty Liz next to Stew!) and, of course, all the gifts.
To make your life a little easier, we thought we could at least help you with the last one. For that reason, we've collected together a list of some of best gifts we could find, so that you don't have to. No more beer steins (yawn). No more groomsmen socks (wasn't it already bad enough when our grandmother gave us those for Christmas?).
Instead, here are some original, awesome gifts for some original and awesome guys.
Whiskey Stones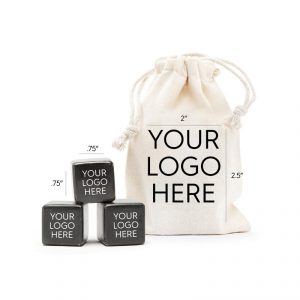 Your men like their alcohol cold but not diluted? Then get them some personalized whiskey stones! You can put on a logo, or a name. Then their whiskey is both cold and pure. The best part? They call them 'Whiskey Stones' but they work for any drink. Wine, beer, even soft drinks (I mean, somebody has to drive) will cool down nicely and stay cold longer.
The best part is that every time they drink they'll also remember your fantastic wedding (and of course the stag do the night before).
Groomsmen Hatchet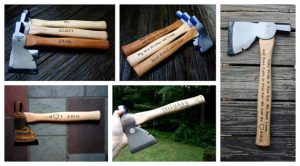 Or, you know, get them something manly and violent, like a personalized hatchet. Nothing says 'thanks for helping me tie the knot' better than something made for chopping.
They are also useful in the case of a zombie apocalypse.
Yeah sure, it's unlikely, but if the Pentagon has contingency plans for that particular apocalypse, then your groomsmen should too, right?
Personalized Bobbleheads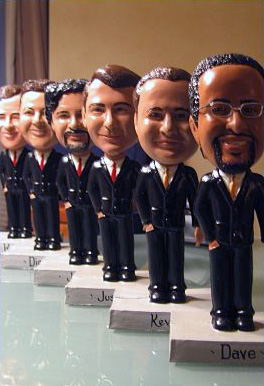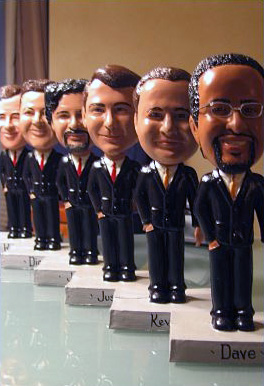 Oh come on, you knew it was coming. We're a company that sells customized bobbleheads. It would be criminal if we didn't put up how cool bobbleheads would be as a groomsmen gift on our blog.
Besides, you've got to admit, they're an awesome gift. Did you know that we can use almost any picture to craft them? So yeah, you can use a picture of them looking smart in tuxes if you want to, but why stop there?
Find some pictures from when you guys first met in college. Or figure out what picture was particularly memorable for them and use that for your bobbleheads. In that way it won't just remember your special day, but theirs as well.
That's just the tip of this bobbly iceberg. For more ideas for your wedding check out this article.
Beer Cap Map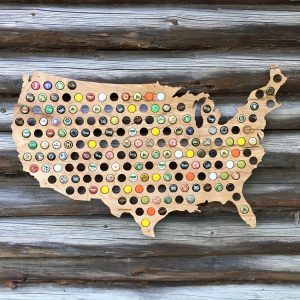 Your lads like beer, particularly microbrewery bevies? Then get them a beer cap map. Yes, on its own its kind of boring. It's a map of the US with holes in it. But think of it this way – this isn't just a gift for today. It's a gift for the future.
Put in a few from a good night together and then commit to filling in the rest of the map together. One way to do so is to find craft beers for every hole on the map. Or, make it your mission to travel to all these locations together. Sure, it's a long mission, but will anybody really mind? I mean, with alcohol everybody prefers the journey to the destination.
And that's a pretty cool way to keep the bromance going.
Personalized pocket watch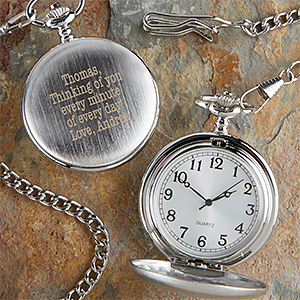 Show how much you appreciate the time they've invested with an awesome silver pocket watch. That way they've got something timeless to remember your day. All you need then is some cool quote to put on the back.
You could go with, "The greatest gift of life is friendship, and I have received it." By Hupert H. Humphrey or if that's too sweet for them then, "Friendship is like peeing in your pants. Everyone can see it, but only you can feel the warm feeling inside" by unknown.
In conclusion
The takeaway here is not to buy our bobbleheads. I mean, please do, but that's not what we're getting at. Instead, it's that whatever you end up buying, you've got to personalize your groomsmen gifts.
After all, we've all got enough stuff. Do we need more? When you personalize it, however, then it's not just another object. Instead, it is transformed into a memory that's taken physical form. And I've never met anybody who complains of having too many good memories.