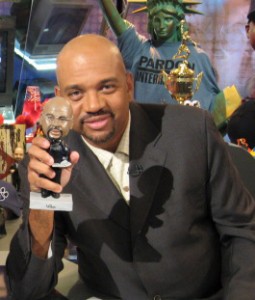 ESPN's Michael Wilbon joined Dennis & Callahan on Monday to talk about Game 3 of the NBA finals, the officiating, whether the Thunder would be better off with Rajon Rondo or Russell Westbrook, and more. To hear the interview, visit the Dennis & Callahan audio on demand page.
Asked whether LeBron James was getting superstar treatment after playing such aggressive defense and being called for zero fouls Sunday night, Wilbon said, "I'd have to go back and look at the game and just pay attention to what LeBron did. It could've been a bad night for the way LeBron was called, and also, we know that LeBron is physically superior. He can control his body in ways that even the other great players cannot in terms of avoiding contact and that sort of thing. And also, superstar treatment was surely in effect."
As for whether Kevin Durant ought to be afforded the same treatment, Wilbon said Durant would, in time.
"People have to earn it," Wilbon said. "And earning it in the NBA means, in the culture of this league for 60 years, so longer than any of these officials have been around, is seniority. And you get it when you've been a great player over time. And Durant had a couple of fouls called on him last night that in my opinion should not have been called."
While he felt it was too early to say definitely, Wilbon said the Thunder look like a team that will win championships, just not this year.
"Every great player, except Magic Johnson, in the last, I don't know, 35 years, has been crushed, usually in the finals, but certainly conference finals, multiple times even," Wilbon said, pointing to Hall of Fame players such as Larry Bird, Michael Jordan, Hakeem Olajuwan and David Robinson. "They were crushed before they broke through. I don't feel like Oklahoma City has gone through that right of passage yet. We know Miami has been through that. LeBron James personally has been through that, twice, already. And I feel like Miami has this sense that, 'Oh no, no, no, we're not going to have that happen again.' It's awful to go through that for an entire offseason and I don't know that Oklahoma City is playing with that 'hate to lose' sort of mentality."
As for whether winning a ring will change James's legacy or if he will need to do it in a certain fashion, such as with a heroic last-second shot, Wilbon said the while dramatic plays won't be necessary, James will need to win multiple championships.
"Since the Magic-Bird era, which is how I define the modern NBA, the greatest players have won multiple championships, and I think LeBron is going to be judged that way," Wilbon said.
"To tell you the truth," Wilbon said, "I like LeBron James too much to see him go through that. It's like seeing [golfer] Phil Mickelson go through it a few years ago. I just want that story line to go away. I'd love to see LeBron James win a championship so that story line, that card is taken out of the deck, if you will.
Harkening back to offseason talk about a Rajon Rondo for Russell Westbrook trade, Wilbon was asked whether the Thunder would be better off with Rondo right now.
"Yes. I think so," Wilbon said. "Think about this, Durant in this series has gone 12-for-20, 12-for-22 and 11-for-19. These are extraordinary shooting percentages when you're playing a lot of the game against LeBron James. Extraordinary shooting percentages. But why is he only getting 19 shots? Or 20 shots? Why isn't he at a Kobe [Bryant]-like number of 26 or 28 shots? Why not? And that's because they don't have a natural point guard. Russell Westbrook is a converted 2 guard. He is a guy who was a star shooter or star scorer himself. An L.A. kid who liked the spotlight and liked taking and making the shot himself and so now he's forced into this role at point guard. He's not natural at it. He's effective a lot of times but he's not natural."