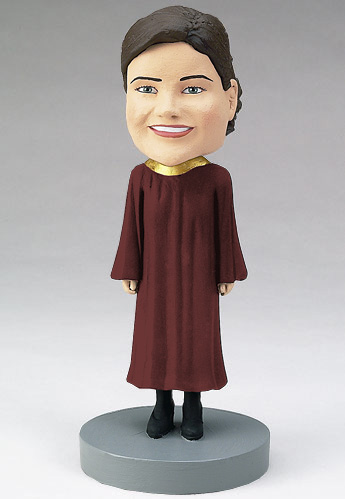 It's almost graduation season! Most of you probably have family members or close friends who are graduating this year.
Graduating, whether from high school or college (or even kindergarten!), is an important milestone in every person's life. As such, you'll want to commemorate this special occasion with a gift that is not only useful but unique and personal as well. In other words, a thoughtful gift. One that not only says "I'm proud of you!" but also one that shows that you had the recipient in mind while choosing the gift.
Not only that, but one that marks the occasion well. A gift they look at and say "that's from when I graduation!"
Of course, it depends on who you're giving the gift to and what the person needs. You might want to choose necessity over novelty, such as in the case of getting someone a new laptop for college or even a car (lucky them!), although it's usually the parents of the graduate who give these kinds of gifts. You may have the authority to have a bit more fun with yours.
If you're brainstorming for other ideas, check out our suggestions for graduation gifts that will surely make any graduate feel special.
1. A Custom Graduation Bobblehead
Be the fun family member or friend and give the celebrant a novelty gift that they can treasure forever. You can have their faces sculpted on a custom graduate bobblehead; whether the graduate is male or female, we have you covered.
You can choose from two of our stock body options and send us photos of the graduate so we can have his or her face sculpted on the stock body. We also allow extra customization options, such as adding tattoos, jewelry, medals, etc. And of course, you have the option to add an inscription on the base, which we highly recommend, as it is a commemorative gift.
If you don't like any of our stock bodies, you can choose to have the whole doll custom made from top to bottom. Just give us detailed instructions, and we'll sculpt your bobblehead according to your exact specifications.
2. Personalized Accessories 
Do you have a special message for the graduate that you want him or her to always to remember? Why not have a personal message engraved on a piece of jewelry such as a necklace or bracelet with a plate or bar pendant? You can make it extra special by adding the graduate's birthstone or even having your own handwritten message etched on the pendant.
For male college graduates, a personalized clip tie in sterling silver or gold is a great option, not only is it practical (for job applications or graduate studies) but it's also sentimental.
3. Custom Notebooks and Stationery Sets
While it's true that computers have replaced writing on paper, more and more people are rediscovering the beauty of writing by hand with ink and paper.
This is especially true with journaling, as evidenced by the popularity of the bullet journal method for both sentiment and productivity. A lot of young people also find the art of calligraphy both fun and satisfying, some even find it relaxing.
For people who love writing, personalized notebooks and stationery sets are great gift options. You can find a wide range of notebooks online, you can even customize the size, cover material, and paper (dotted, lined, graphed, or just blank paper). A lot of sites that focus solely on specialty paper products also offer customization options like monogramming initials on notebooks and personalized stationery sets.
4. Personalized Leather Tech Cases
Most students own multiple gadgets. The staples typically include, a laptop, a smartphone, a tablet, and a power bank. These gadgets also come with a multitude of wires, from charging cables to earphones, and so on.
Leather gadget cases are perfect gifts for graduates; they're actually perfect for everyone. And since leather is a premium material, giving a graduate a leather case for their laptop or phone will surely be appreciated.
Leather's durability as a material is great for college-bound students because it can withstand rough use and it adds an extra layer of protection to their gadgets. Most leather goods retailers offer monogramming options for personalization, the most common being monogram debossing, but some online stores have started offering other personalization options, such as hand-painting on leather.
5. Location Coordinates Keychain
Say, you decide to go for something big as a graduation gift- maybe a car or an off-campus apartment but you want to present it in such a way that adds an extra layer of surprise.
The perfect extra gift for this purpose is this coordinates keychain.
Just google the coordinates of where your gift is, and they'll engrave it on the plate. The recipient can then go to the location of your present.
This product is also available as a necklace and a ring and is intended to mark the coordinates of a special place for the recipient, so you don't actually need the car or the apartment. Just the accessory along with the coordinates of a happy place that you want the recipient to remember is in itself a wonderful gift.
Graduation day is special not only for the graduate but for family and friends, as it celebrates years of hard work and a job well done. Reaching this milestone deserves a special gift, we hope you found some great ideas here.